Account-Based Marketing Framework & Campaign
Gotransverse (formerly goTransverse), a cloud-based billing platform provider for SaaS companies, came to PMG for an account-based marketing program and compelling content to support a full-scale campaign including digital ads, a content hub, customized landing pages and drip email sequences.
See the Full Case Study
ABM Framework & MarTech Stack Evaluation
Developed an Account-Based Marketing (ABM) strategy, including identification of ideal customer profiles (ICP) and development of a model to qualify three tiers of target accounts. Created a comprehensive ABM framework with recommended activities and investment levels, and performed a gap analysis of Gotransverse's MarTech stack with recommended solutions and a timeline for implementation.
Delivered messaging and a complete campaign strategy for a pilot program targeting the SaaS vertical, utilizing Gotransverse's new ABM platform, Triblio. Additionally, included content, email nurture and media placement recommendations.
Crafted five unique pieces of content for the SaaS vertical, including an infographic, tip sheet, company overview, listicle, and eBook. Developed recommendations for digital promotion, as well as an email nurture track to maximize reach.
Digital Advertising & Landing Page Development
Coded a custom content hub within Triblio to serve as a resource center for SaaS-focused campaign efforts, increasing click-through. Designed three digital ads per content piece, for targeted distribution to Gotransverse's top prospects, driving traffic to the hub.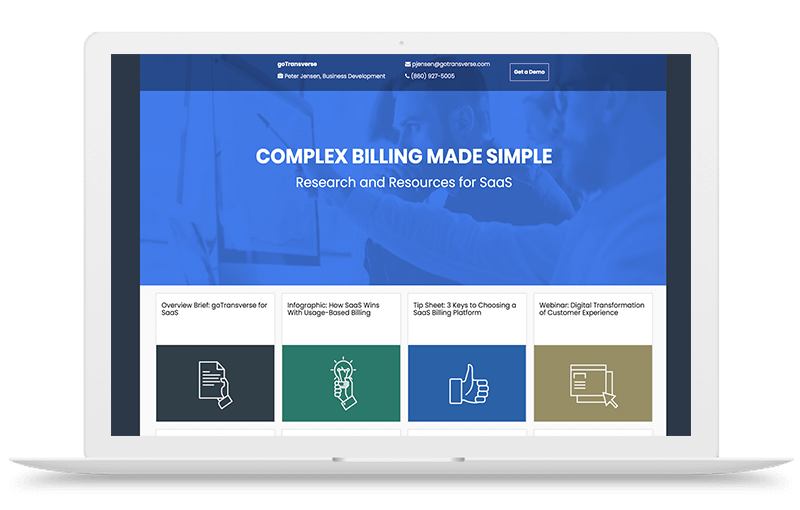 Developed two pieces of content for the top and middle of the funnel to drive lead generation within a high priority market for Gotransverse. Supported a guide on billing metrics and an infographic on the issue of build vs. buy with compelling digital ads for display, retargeting, and ABM applications.
Client Testimonial
"PMG's first-hand knowledge of the B2B tech landscape was invaluable in driving our transition to an Account-Based Marketing strategy.

Allison Dancy

VP Marketing, Gotransverse
Additional Work
Marketing & Ad Tech ABM Campaign
Developed an Account-Based Marketing campaign targeting Marketing & Ad Tech leaders that included a customized content hub on Triblio, premium content pieces and an assortment of digital ads. Our team developed the content, produced the copy and design for digital ads, developed an infographic, ebook, tip sheet, and sales brief. In the first month, Gotransverse reported a 57% open rate for the nurture emails.
Ready to Start Your Project?
Schedule an Intro Call With Us!