Go-To-Market & Integrated Campaign Support
GoodData, a business intelligence and data analytics SaaS provider, has chosen PMG to develop numerous integrated campaigns over the years. Whether it's supporting the company in launching a "Powered by" product for Independent Software Vendors (ISVs), or the creation of social selling trainings and tools, PMG is the go-to marketing partner for the GoodData team.
See the Full Case Study
To support GoodData's "Powered by" product for Independent Software Vendors (ISVs), PMG developed an integrated marketing program that included an interactive gaming experience that incorporated GoodData's target buyer personas.
Playing the game resulted in receiving an eBook customized to the player's unique interests and needs. In addition, we created a wide range of promotional materials and creative assets spanning print, social, digital, email, and other channels, designed to drive traffic to the site.
Across owned, earned and paid channels, the integrated cross-channel campaign was the first of its kind for GoodData, and was so successful that nearly three years later, it remains active. To date, the DataLand online experience has generated more than $8M in pipeline and $3.4M in annual recurring revenue.
The DataLand gaming experience promoted five eBooks that were customized around each of GoodData's defined buyer personas. PMG developed more than 100 pages of custom content for the five books, along with original graphics and illustrations.
Once the web page, gaming experience, and eBooks were complete—PMG turned its attention to creating a series of promotional materials spanning print, social, digital, email, and other channels, designed to drive traffic to the site.
These materials including social graphics for Twitter and LinkedIn digital banners ads placed at key locations on the GoodData site (including related blog posts), as well as external properties; three Marketo emails per eBook (15 total); and a tradeshow booth banner, gaming setup and t-shirt prize.
Worked with leadership from across the organization to develop a customizable presentation, designed to clearly and succinctly communicate GoodData's value proposition to B2B and B2C targets across verticals.
Created SEO-friendly educational content designed to target the first-time business intelligence SaaS buyer with targeted messaging, differentiating GoodData from its competition. Included:
BI 101 Guide
BI Buyer's Guide
BI Vendor Comparison Guide
Vendor Comparison Chart
Total Cost of Ownership Calculator
Social Sharing Graphics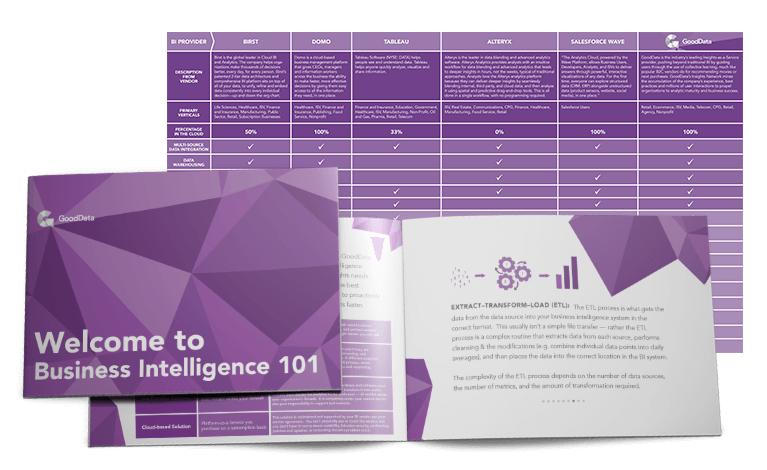 Product Briefs & White Papers
Created a series of briefs and long-form content highlighting the unique value propositions of GoodData's business intelligence cloud platform, including the ability to deliver "Insights-as-a-Service."
Developed a series of briefs targeting specific vertical use cases for GoodData's business intelligence cloud platform, including digital and social analytics.
Produced more than 20 case studies, highlighting GoodData success stories with direct customers, as well as Independent Software Vendors (ISVs) utilizing GoodData's "Powered By" product to integrate analytics within their own SaaS solution.
Developed a comprehensive strategy to support the launch of a first-of-its kind solution partner program, designed to drive indirect sales of GoodData's analytics platform via systems integrators and other service providers.
Concepted partnership program benefits, tiers, and provider qualifications—translating them into both contractual agreements, and program overview collateral.
Client Testimonial
"PMG really hit the nail on the head with the partner program they developed for us—from ideating program benefits and tiers to creating a series of customizable sales and marketing assets—they thought of it all.

Jeff Morris

VP Marketing, GoodData
Ready to Start Your Project?
Schedule an Intro Call With Us!