Marketing Partner Program & ABM Campaign
CrowdStreet, a crowdfunding fintech for commercial real estate, was in the midst of a transformation when they approached PMG. The young company, which had recently been named the #1 Technology Startup in Oregon by the Technology Association of Oregon, came to PMG to develop a custom partner program and for assistance with a full-scale brand relaunch campaign.
CrowdStreet Partner Program
Designed a bespoke partner marketing program to enable CrowdStreet's commercial real estate sponsors for success. Concepted the overall program and tiers of packages for partners, operationalized the program's execution, and developed a series of training and promotional materials to assist CrowdStreet in communicating the program's value to prospects.
See the Full Case Study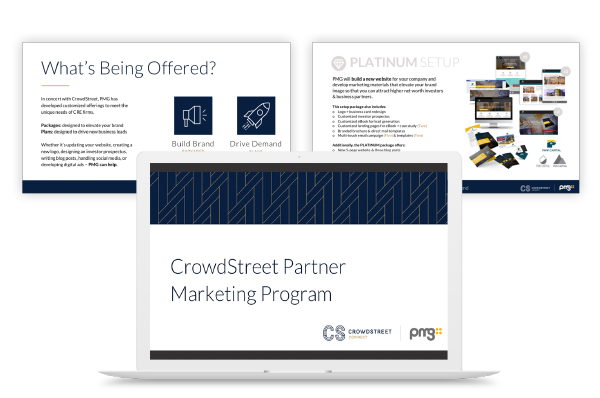 CrowdStreet Brand Campaign
Developed a content marketing and demand generation strategy for the launch of CrowdStreet's new brand. The integrated campaign included influencer marketing, account-based marketing, email campaigns, direct mail, digital advertising and premium gated content pieces for three distinct audience tracks: Investors, Sponsors and Influencers.
See the Full Case Study
Client Testimonial
"PMG provided incredible value-adds in the development of a cross-channel campaign introducing our new brand—allowing us to get laser-focused on ideal targets with account-based and influencer marketing.

Molly Moore

CMO, CrowdStreet
Product Launch
Developed content marketing collateral and digital ads to announce the launch and provide demand generation support for a new investment portfolio. Created a datasheet, executive blog post, nurture emails and digital ads to educate CrowdStreet's B2C audience about the new product offering.
Ready to Start Your Project?
Schedule an Intro Call With Us!