Digital & Social Strategy:
Earn your customers' attention with B2B digital strategies that drive demand.
Reach and captivate your target audience with multiple touchpoints across the web and social media.
Develop marketing strategies and campaign tools that prompt B2B audiences to action with social and digital.
Lay the framework for an end-to-end roadmap that drives precisely the results you need.
Human Touch
You strive to provide value for your customers, which starts at the first point of contact. To develop strong ties between brand and customer, it's imperative to start off on the right foot and build on a strong foundation. This is why even though PMG is a B2B digital marketing agency, we approach your targets as people, not just leads, which opens the door to genuine engagement and conversation.
Brand Affinity
Every company strives for brand affinity, but most fall far short. To reach this goal and build brand equity, we help companies consider every interaction as an opportunity to exceed expectations. Your advertising, content, social media, email marketing, website-—all of these components contribute to whether a user experience is meaningful and able to drive results.
Premium Experience
All of us are bombarded by messages all day long. The only way to break through the barrage is to provide a fantastic experience worth your targets' attention. By weaving together pointed messaging and exceptional content on channels that your targets frequent, PMG uses digital marketing and social media to form the backbone of an effective strategy.
Digital & Social Strategy in Action
Rackspace PPC Campaign: Leveraged the power of customer testimonials to communicate Rackspace's value prop within a digital campaign.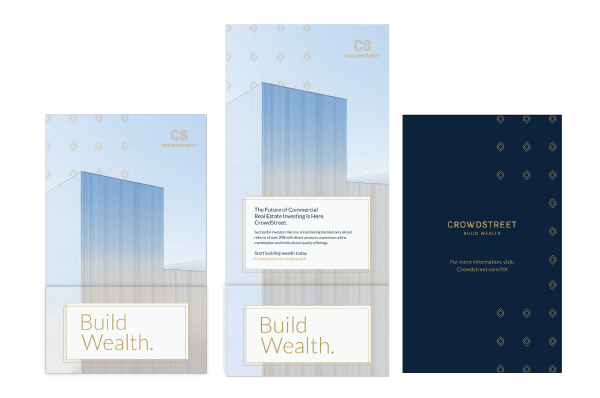 CrowdStreet Brand Campaign: End-to-end digital and social distribution strategy for the commercial real estate crowdfunding platform's brand relaunch campaign.
Spokane International Airport Paid Facebook Campaigns: Creation and management of paid social campaigns to support co-branded campaigns with the major airlines.
Orchestrate and execute the fine points of an intelligent campaign strategy.
Efficient campaign management from planning and creation, through to tracking and execution. Managing budgets, content, and reporting requires an eye for detail and the ability to prioritize on the fly.
Optimization is one of the greatest benefits of digital marketing, yet many don't take advantage of the opportunity. Don't overlook your best chance to save resources and increase revenue.
Build integrated cross-channel campaigns that drive opportunities aligned with organizational goals.
Smart Targeting
Effective campaign management starts with knowing your audience well enough to create opportunities that drive conversions. But that's just the beginning. The team at PMG is available to manage every aspect of your marketing campaigns all the way through optimization and refinement. We always stay current with channel platform updates and industry changes to make sure every available advantage is leveraged to achieve our clients' revenue goals.
Unified Campaigns
Campaign management becomes increasingly challenging as the volume of campaigns running in tandem increases. PMG's marketing strategists can coordinate your overarching campaign calendar to ensure your company's communication is happening at the right time, with the most compelling message and call to action.
Impeccable Timing
More than pressing a "go button", campaign management requires consistent attention to performance and budget. With an eye for optimization and familiarity of channel platforms, PMG delivers solid campaign execution based on data-driven strategies.
Campaign Management in Action
Spokane Airport Paid Facebook Campaigns: Creative concepts, messaging, ad design and management of media buys, targeting and campaign optimization for collaborative advertising with the major airlines.
CrowdStreet Influencer Marketing: Influencer identification, customized messaging, one-to-one email outreach, and relationship management to align the client with CRE influencers.
GTT Global ABM Campaign: Full campaign management of integrated ABM campaign that included a global, high-value direct mail gift component targeted at enterprise-level CIOs.
Ultimate Guide to B2B Digital Marketing Strategy
Want to increase engagement and turn more clicks into conversions? A solid digital marketing strategy is the key to your success. Develop, implement, and measure a B2B digital marketing strategy with this comprehensive 37-page guide.
Smash Your Revenue Goals
Get the Ultimate Guide to B2B Digital Marketing Strategies