Resources Global Professionals (RGP), a leading global consulting firm with more than 3,400 employees worldwide, was in the midst of a transformation. The company, which historically had operated in a somewhat decentralized model, was noticing signs of stagnation in its pipeline, with different regions and offices employing their own strategies towards targeting, engaging with, and closing opportunities.
Recognizing the impact this fragmentation was having on business growth, the company reorganized itself and launched a new, integrated revenue marketing function to enable consistent and cohesive brand communications, and arm sales for success.
The new VP of Revenue Marketing had a lofty set of goals to meet. RGP had primarily relied on relationships in the past to grow business, retaining 100% of its Fortune 500 client base, but building a scalable pipeline required becoming more programmatic in their approach to prospecting.
RGP came to PMG for assistance with developing messaging, and a series of campaign strategies that would communicate the value of the company's advisory, project-based, and staffing services to executive buyers.  
Additionally, RGP looked to PMG's expertise in building marketing and sales enablement assets, and establishing the technological foundation to support its efforts with marketing automation, and account-based marketing solutions to assist the company in executing targeted a select group of high-potential accounts.
RGP
Consulting
Account-Based Marketing
B2B Content Marketing
Campaign Management
B2B Marketing Strategy
Sales Enablement
From buyer persona research, messaging, and campaign strategies, to the development of an ABM framework and complete martech stack evaluation, our team works to ensure the client continues to track against big revenue goals.
Buyer Personas & Messaging
Developed 5 unique buyer personas. Conducted stakeholder and customer interviews to inform the personas, which included demographics, a "day in the life," business drivers, objections & answers, KPIs, content recommendations, sources of information, messages, and more.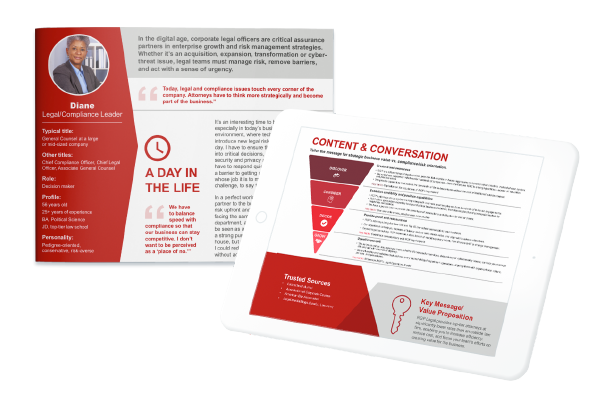 Translated insights from the personas into a comprehensive company messaging framework to inform campaigns.
Sales First Meeting Deck & PPT Template
Concepted, copywrote and designed a new first meeting presentation to enable RGP's sales team for success. Included new messaging, corporate positioning, solutions overviews, persona and vertical focused slides, and customer success stories. Extrapolated that presentation into a new corporate PowerPoint template, including multiple customizable graphics and charts, as well as approved stock imagery for maximum flexibility.
Executive Town Hall Presentation
Concepted, developed, and designed (with original artwork) an executive town hall presentation for RGP's new VP of Revenue Marketing.
Developed account-based marketing framework and campaign strategy to target 9 high-potential accounts in the healthcare vertical.
Performed an audit of RGP's marketing tech stack and martech vendor list. Made recommendations for what vendors/solutions to remove, replace, and/or add. This evaluation provided RGP all of the tools it needed to execute strategic marketing activities on a reasonable budget, and with limited time requirements.
From the Client
"PMG brings not just agency expertise to the table, but also insider knowledge of B2B enterprise marketing. I'd highly recommend PMG to any company looking to drive lead gen, and meet revenue goals with creative content and campaigns!

Meredyth Jensen

VP Revenue Marketing, RGP
Ready to Start Your Project?
Schedule an Intro Call With Us!