CrowdStreet, a premium provider of online commercial real estate (CRE) investment offerings, came to PMG with a challenge. The company's CRE Sponsors needed a way to connect with a new pool of investors that were interested in investing in projects being developed across the country by way of online crowdfunding.
Because the CRE industry had traditionally been one that was regionally-focused and reliant on face-to-face networking, many of CrowdStreet's Sponsor companies were seeking digital marketing strategies to help build their brands nationwide and drive demand in a digital landscape.
The team at PMG collaborated with customer success, sales and marketing teams at CrowdStreet to better understand the challenges faced by CRE Sponsors. Working hand-in-hand with CrowdStreet's CMO, PMG designed a bespoke partner program to enable CrowdStreet's commercial real estate Sponsors for success.
CrowdStreet
FinTech
SaaS
Commercial Real Estate
A fully operational partner program complete with sales training tools, customer-facing collateral, and program launch campaign components. Our team worked closely with multi-discipline teams at CrowdStreet to ensure that the program fit seamlessly into their brand experience while meeting the needs of their clients and creating new avenues for the company and their clients to reach big revenue goals.
Built and operationalized the partner program, from sales decks and contract scopes, to project management workflows and new customer onboarding, our team handled building out the entire program start-to-finish.
Program Tiers & Pricing Analysis
Concepted the overall program, from pricing analysis through development of a tiered service level program, we worked closely with CrowdStreet to understand the unique needs of their Sponsor clients.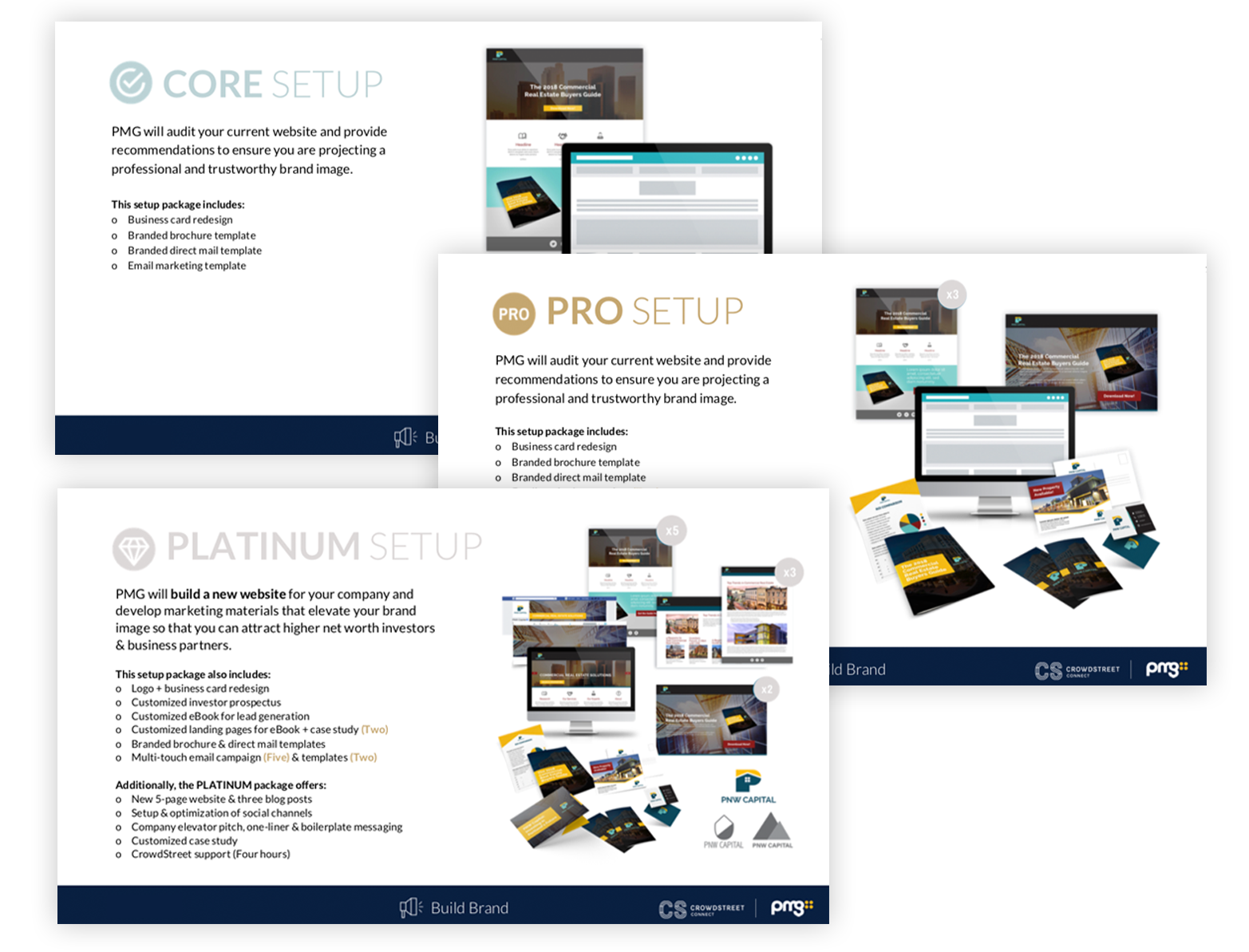 Our team operationalized the program's execution and developed a series of training and promotional materials to assist CrowdStreet in communicating the program's value to prospects.
Program Launch & Iteration
For the program launch, PMG worked closely with CrowdStreet's sales team to develop a smooth lead transition and handoff from marketing. This enabled both PMG and CrowdStreet to iterate on program details and fine-tune messaging to better meet the unique needs of CRE Sponsors.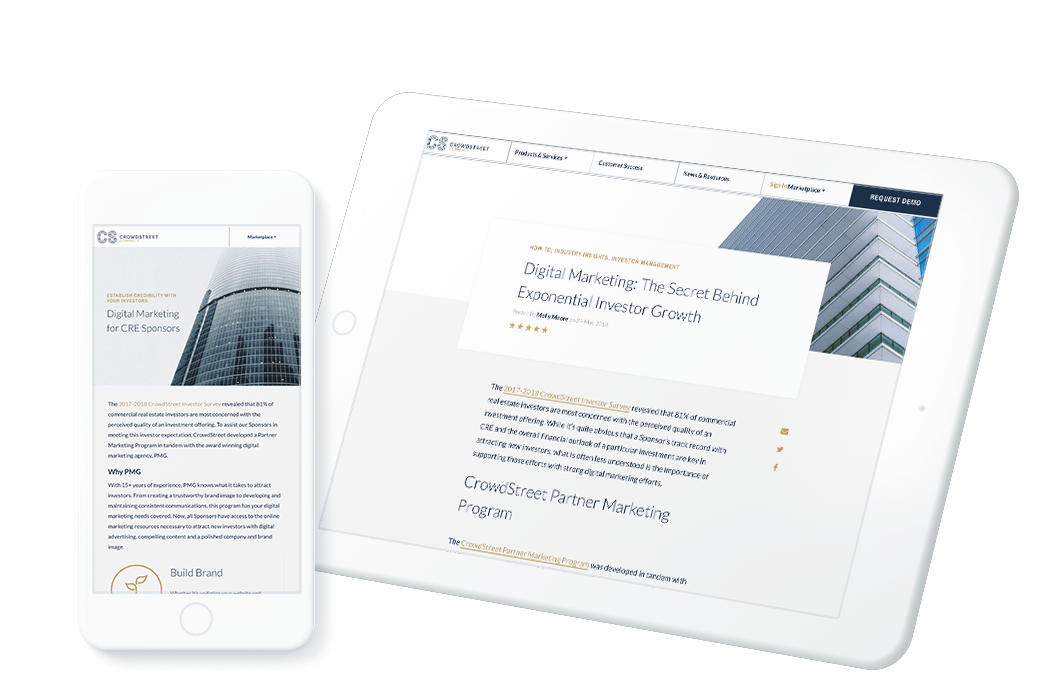 PMG developed a four-part blog series to educate Sponsors about the benefits of the new Partner Program. The blog series was promoted through various owned channels, including email and social media.
Through the Partner Marketing Program, PMG has worked with CrowdStreet Sponsors such as Wright Investments and REAP Capital to provide strategic marketing services, including Offering Memorandums.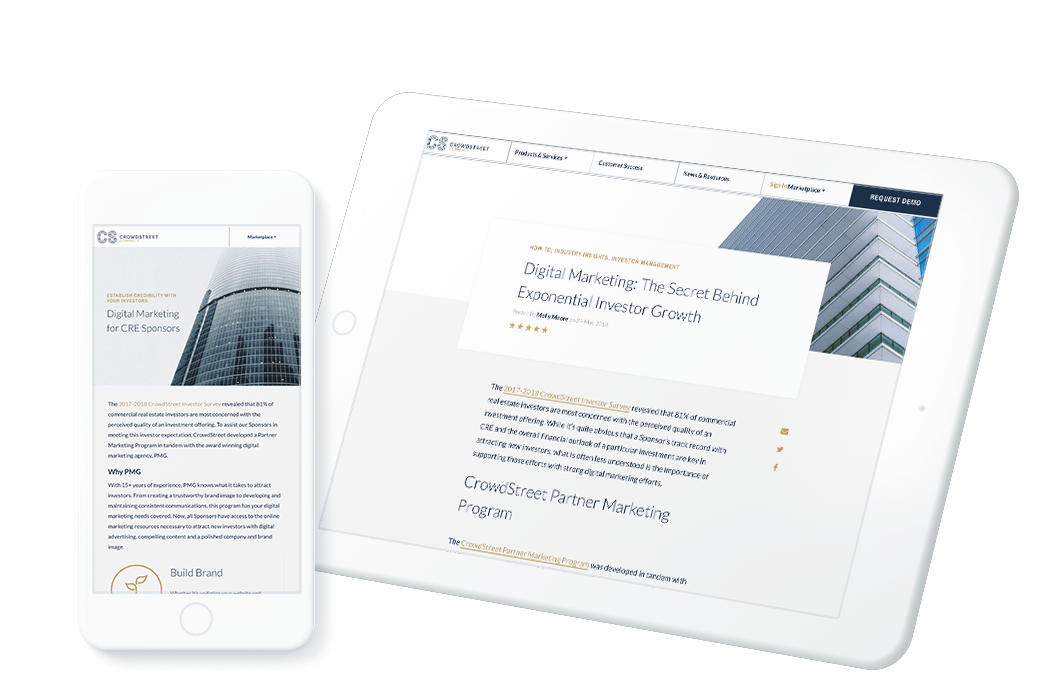 From the Client
"Partnering with PMG to enable our CRE customers with content and digital marketing services is a game-changer for CrowdStreet and gives us a unique value-proposition in the market. Our clients have access to a full marketing support team, and with PMG, our CRE customers are well-prepared to meet the needs of our investors.

Molly Moore

CMO, CrowdStreet
Ready to Start Your Project?
Schedule an Intro Call With Us!